- Products - Physik Instrumente (PI) GmbH & Co. KG
High-Performance Control for Precision Air Bearing Positioning Systems: Modular Controller for Four, Six or Eight Axes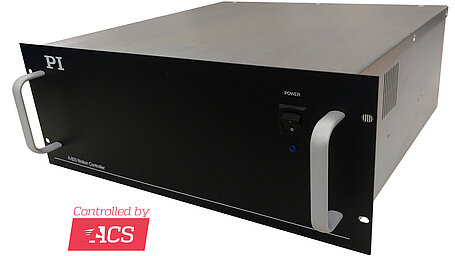 PI (Physik Instrumente) now offers modular high-performance motion controllers suitable for four, six or eight axes for the PIglide air bearing positioning stages, which work with linear or rotary servo motors with direct drive and high-resolution encoders. The multi-axis controllers are based on hardware from ACS, an international manufacturer of modern multi-axis motion controllers, who has been a part of the PI Group since 2017. The controllers therefore support the ACS ServoBoost algorithm that allows extremely stable servo-control that is insensitive to noise or changes in the system.
The A-82x motion controller series integrates controllers, drivers, and power adapters in a compact 4-RU, 19-inch rack, but can also be offered as customized setups for OEM customers. Depending on the number of axes to be controlled, they supply a continuous power of 1,100 to 2,000 W, at up to 3,900 W peak power. The standard options include individually configurable inputs for incremental sine/cosine and absolute encoders (interpolation factor of 16,384) that use the BiSS-C data protocol.
Motion programs and parameters can be stored in the internal flash memory. Because of this, it is not only possible to operate the controllers via an external PC, but also in stand-alone mode. Therefore, only a PC is necessary for programming and starting. The necessary software is in the scope of delivery.
For more information, refer to:
A-82x PIglide Motion Controller for 4, 6 or 8 Axes
About PI
Well known for the high quality of its products, PI (Physik Instrumente) has been one of the leading players in the global market for precision positioning technology for many years. PI has been developing and manufacturing standard and OEM products with piezo or motor drives for 40 years. By acquiring the majority shares in ACS Motion Control, a worldwide leading developer and manufacturer of modular motion controllers for multi-axis and high-precision drive systems, PI has made a major step forward in providing complete systems for industrial applications with the highest demand on precision and dynamics. In addition to four locations in Germany, the PI Group is represented internationally by fifteen sales and service subsidiaries. www.pi.ws
Downloads
Others
Press information kit - A-82x